Our Team
The team at Kokomo Animal Hospital is dedicated to providing you with the best service in a friendly, professional manner. We appreciate the importance of the human-animal bond–we experience that pleasure everyday in both our personal and professional lives. It is our delight to join with our clients in recognizing and appreciating each cat or dog for their unique qualities and special gifts.
Our mission is to continually challenge ourselves, to be receptive to new ideas, and to promote patient comfort and client education. We are never too busy to answer a question, share an experience, or offer a word of encouragement. We are dedicated to pets and the people who love them.
The Veterinary Team at

Kokomo Animal Hospital
Marissa Mc Gowen

Office Manager
She has been with KAH since 2006.
Athena Steele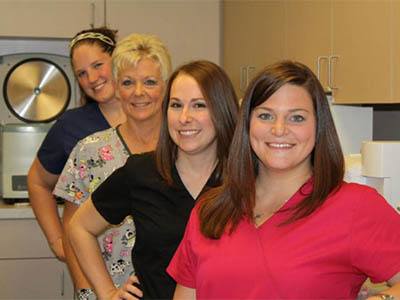 Athena is pictured far left.
Athena Steele has been working in the veterinary field since 2001. Initially starting as a Kennel Technician in high school, she migrated to Indiana from Oregon after graduating from Portland Community College with an Associates of Applied Science in Veterinary Technology. Graciously being granted experience at Kokomo Animal Hospital during an externship through school, she joined the team in 2006 as a Veterinary Technician.
Athena and her husband Derick have been married since 2006 after a long engagement while they each waited for the other to graduate. They have two two-legged children as well as two dogs, a cat, and two horses.
When not at work, Athena enjoys many creative hobbies such as crocheting, creative writing, and playing her ukulele. The Steele family is active in various areas of the community including their Church, Crossroads Community Church.
Marla White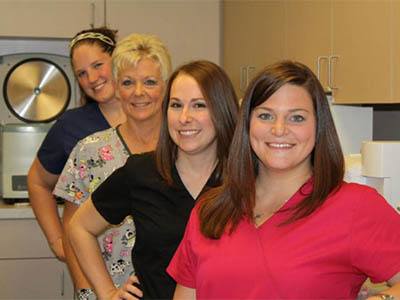 Marla is pictured far right.
Marla White grew up in Kokomo IN., and graduated from Northwestern High School. While in high school, Marla worked in the kennels at KAH and fell in love with the veterinary field. She received a Bachelor's degree from Purdue University in 2009, while coming back during summer and winter breaks to continue working as a veterinary assistant and receptionist. In 2010, she graduated from the Purdue Veterinary Technician program with a degree as a Veterinary Technologist.
Marla and her husband, Seth, were married in 2011 and now have 3 energetic young boys and one dog, Bristol. Together they enjoy operating their family farm, fishing, spending time on the lake and community gatherings.
Marla enjoys coaching the local swim team in Rochester as well as running mini-marathons, reading and being an active member of St. Ann's Catholic Church.